Superfunk Roller Disco Liverpool
Superfunk rolls into Liverpool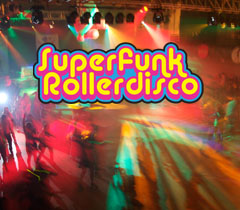 Superfunk Roller Disco have teamed up with Lifestyles Peter Lloyd to bring you some funky roller disco action!
6pm - 8pm - one hour sessions
Tickets
Prices
Where to buy
Get down early! Call for info on 0151 233 5433
Venue
Lifestyles Peter Lloyd, Bankfield Road, Liverpool, L13 0BQ
Superfunk Roller Disco promote responsible drinking and recommend the use of Personal Protective Equipment (PPE) which is available when you hire skates, at no extra charge.
All skaters are required to read and complete the Roller Rules and Health & Safety Form prior to skating on the roller disco floor.