Superfunk Roller Disco Lancaster
Superfunk rolls into Lancaster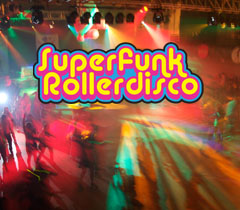 Superfunk Roller Disco have teamed up with Salt Ayre Sports Centre to bring you the funkiest roller disco around.
Sessions are 4.30pm-6pm & 6.30pm-8pm
Tickets
Prices
Available on the door for £5
Where to buy
Call 01524 847540 for info
Venue
Salt Ayre Sports Centre, Doris Henderson Way, Salt Ayre Lane, Lancaster LA15JS
Superfunk Roller Disco promote responsible drinking and recommend the use of Personal Protective Equipment (PPE) which is available when you hire skates, at no extra charge.
Wrist protection will be MANDATORY at this event - we will have wrist protection for everybody to borrow FREE OF CHARGE on the night.
All skaters are required to read and complete the Roller Rules and Health & Safety Form prior to skating on the roller disco floor.