Superfunk Roller Disco York
Part of Halifax College Welcome Week 2010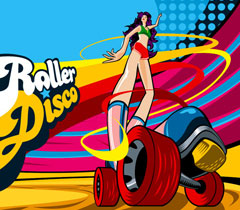 Superfunk Roller Disco have teamed up with the University of York Students' Union to bring the Roller Disco to York during Welcome Week 2010.
Tickets
Prices
Where to buy
University of York Students' Union
Venue
The Courtyard, Langwith College, University of York, Heslington, York, YO10 5DD
View Google Map
Superfunk Roller Disco promote responsible drinking and recommend the use of Personal Protective Equipment (PPE) which is available when you hire skates, at no extra charge.
Wrist protection will be MANDATORY at this event - we will have wrist protection for everybody to borrow FREE OF CHARGE on the night.
All skaters are required to read and complete the Roller Rules and Health & Safety Form prior to skating on the roller disco floor.